Optimized planning
of resources for efficient operations
DTP has partnered with Dassault Systèmes to offer its DELMIA Quintiq planning and optimization solution for the transportation industry in the Middle East and North Africa.
Optimize your planning with a trusted solutions provider
At DTP, we recognize that efficient operations require effective planning and optimization solutions. In a fast-moving industry such as transportation, optimized planning of resources is essential in keeping up with the demands of commercial operations.
DTP has partnered with Dassault Systèmes to offer its DELMIA Quintiq planning and optimization solution for the transportation industry in the Middle East and North Africa. DELMIA Quintiq is an optimization and planning solution that can solve any planning puzzle across multiple time horizons from strategic to operational and disruption management.
The partnership between DTP and DELMIA Quintiq was established after a successful joint implementation of DELMIA Quintiq planning solution for Dubai International Airport's fixed resources in 2017. Through the partnership, we are able to extend our operational management offerings and provide our customers with a wide range of planning and optimization solutions, through our extensive experience and expertise in transportation solution delivery and DELMIA Quintiq's world-class planning software.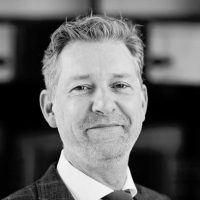 "DTP has impressed us with over a decade's experience in aviation know-how, project management, delivery capability, and high standards of service quality. On merit, DTP is our clear choice for a strong partnership in order to further strengthen Quintiq's presence in the Middle East and North Africa's aviation market."
Director WW Partner Development, DELMIA Center of Excellence

Serving all transportation segments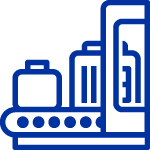 Airport Fixed Resources
Stands
Gates
Baggage belts
Check-in counters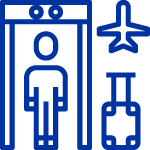 Airport Touch Points
Transfer
Security
Passport control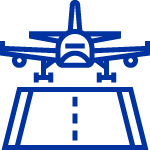 Airlines
Crew
Fleet
Catering
Cargo
In-flight services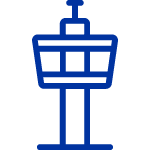 Air Navigation Service Providers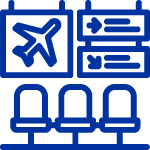 Airport Services
Workforce
Asset management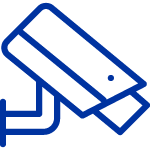 Security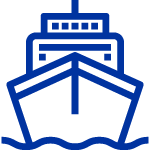 Maritime
Intermodel
Berth
Vessels
Cranes
Yards
Workforce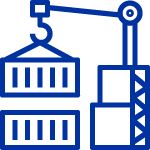 Logistics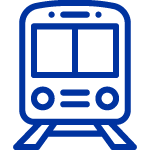 Rail
Passenger operations
Infrastructure
Freight operations
Fleet management
Cargo
Workforce
With DTP and Dassault Systèmes' combined expertise, we are well-equipped to serve all transportation segments, from air to maritime, to land and rail.

For 15 years, DTP, as a company, has specialized in aviation technology solutions, with a successful track record of delivering various large-scale projects with some of the busiest airports and biggest airlines in the world. As a team, our diverse and skilled employees have decades of experience in different transportation segments behind them.
With our experience and expertise in air transportation and our accomplished manpower, we begin to tackle the challenges of maritime, land, and rail transport. Branching out into other transportation segments is a strategic move for DTP, as we continue to pursue our mission to transform the passenger and customer experience by optimizing planning and operations for our clients. By tapping into our collective knowledge and competencies, you can count on high-quality solutions that meet modern-day standards and your specific requirements.

Dedicated Optimization Experts
We have established an internal team of DELMIA Quintiq-certified professionals, including project managers, optimization consultants, and specialists, to provide the highest level of service to our clients.
All our specialists are well-versed in DELMIA Quintiq's modeling language, to design, build, and deliver an optimization solution that fit your requirements 100%. Through our dedicated manpower, you can expect undivided attention from inception to completion.

DTP prides itself in having established strong alliances with world leaders in data and IT solutions. This enables us to better serve our clients by extending and enhancing our best-in-class competencies.
Through our partnerships, we are able to offer robust solutions that employ world-class standards, while maintaining a personal approach to our service.
Cutting-edge planning and optimization software
DELMIA Quintiq is a central planning system that covers every aspect of planning—from long-term strategic plans to short-term schedules and disruption management. Its software architecture can be configured to fit any model with a 100%-fit, making it applicable to many industries.
Every department and every user can customize the interface and the information visible to them to suit their preferences and requirements. The system can accommodate hundreds of users simultaneously in real-time, scale as your business grows, and solve any planning puzzle with precision.
Gives planners complete visibility and control by consolidating key business functions into a powerful and flexible system designed to solve all planning puzzles
Takes into account particular rules, regulations and requirements, unique assets, and business processes to provide a platform that fits any business completely
Holds more than 200 world records in well-known academic logistics puzzles; Constantly being improved to help you achieve the best results
Planning solutions that start and end with your critical business indicators; Monitors all KPIs and gives immediate feedback on the quality of plan before it's implemented
Provides full flexibility and allows 100% fit, all on a single platform; Easy to deploy, sustain, and scale
Integrates seamlessly with most legacy systems and enhances existing enterprise software with no complications or loss of data
Some of DELMIA Quintiq's global clients